Monday, October 19, 2009
A new way to watch my favorite scene.
Posted by

Mr.Black
at 9:26 PM
No comments:

Posted by

Mr.Black
at 9:19 PM
No comments:

Thursday, October 15, 2009
Mr. Hudson is the new kid on the block at Kanye West's G.O.O.D. Music. And it seems like all the other kids wanna play with his new toys.
What would make a perfectly respectable English singer adopt a funny stage name and dye his hair Kim Novak blond? "Three or four years ago, I was feeling rather overlooked," Mr. Hudson explains. "So I decided to go from the minimum to the maximum. I'm no longer gonna stand in the queue of nice guys with guitars, saying, 'Hi, my name is Ben Hudson!' " Mr. Hudson's Awaken the Giant Within–style manifesto quickly upended his life. Kanye West was a fan of Hudson's 2007 UK debut,Tale of Two Cities, so when Hudson recorded a new track, he just went ahead and e-mailed the damn thing to West. "I knew they had started recording Jay-Z's new album," Hudson says. "Half in jest, I wrote, 'Need a hand with The Blueprint 3?' " Mr. West's answer was Yes, actually. So Hudson was dispatched to L.A., where he and Kanye recorded "Young Forever" for Hova. Next, they set up shop in Hawaii and began hammering out Kanye's album 808s & Heartbreak. (Hudson advised West on his singing and contributed vocals of his own.) After Mr. Hudson completed his tour of duty as a singer-slash-consultant to hip-hop's top-ranking generals, he was honorably discharged back to his humdrum existence in a makeshift studio above a North London pub called the Enterprise. The stress of his new double life led to a breakup with his girlfriend, but at least he had a record deal inked. So he got to work on Straight No Chaser, his U.S. debut, out later this year. The result is lyrically heart-torn power pop built from drum machines, new-wave keys, and Hudson's to-the-max vocals that recall Police-era Sting. "Kanye's advice was, 'Right, you're a pop star, get over it,' " Hudson says. "So I kept reminding myself to make it a swift kick in the balls."—WILL WELCH
Article from gq magazine
Posted by

Mr.Black
at 11:39 AM
No comments:

Tuesday, October 13, 2009
Article from Los Angeles Times, on the studio system that shoots more than the trigger happy LAPD. No more sequels. Pretty please with a cherry on top.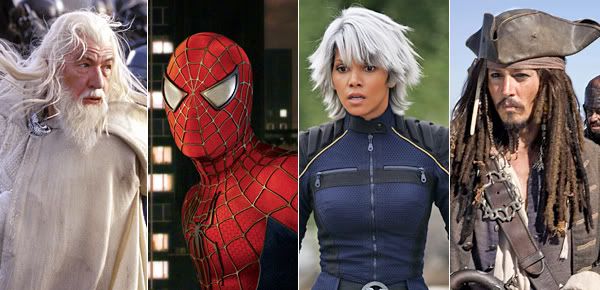 They are four of the biggest franchises in Hollywood history and each is at a major crossroads. This week the Hero Complex will look at "The Lord of the Rings," "Spider-Man," "X-Men" and "Pirates of the Caribbean" and size up their future as they attempt to move past their original trilogies and into a new decade.
Tuesday "Lord of the Rings/The Hobbit": How can Guillermo del Toro possibly match up toPeter Jackson's magical conquests ($2.92 billion in global box office and 17 Oscars including best picture, best director and best adapted screenplay)? At least he has Jackson on his side ...
Wednesday "Spider-Man": Director Sam Raimi and stars Tobey Maguire and Kirsten Dunstare back for more and that's no surprise considering "Spider-Man 3" had the highest-grossing opening weekend of the wall-crawling films -- and went on to make $891 million worldwide. Still, the last film got decidedly mixed reviews, and some fans are wondering if the magic is gone.
Thursday: "X-Men": The summer 2000 release of Bryan Singer's "X-Men" truly signaled the beginning of the modern era of superhero cinema and its new ambitions. While the 2006 release of "X-Men: The Last Stand" led to commercial success ($459 million), the hero-snuffing plot, the finality of the title and those cruel reviews all suggested the run was over. Now, though, producers are looking for a return to the mutant chronicles...
Friday "Pirates of the Caribbean" : The fourth film, "Pirates of the Caribbean: On Stranger Tides," hits theaters in 2011, but after a shake-up at the top of Walt Disney Studios, star Johnny Depp said he is feeling glum about the project. If he's not excited, should you be?
Check back to read them all, but in the meantime, give us your opinion: Which franchise would be making the biggest mistake by continuing past the original trilogy? Vote below ...
-- Geoff Boucher
Four Franchises Ready to Go Fourth
Source LA Times via Rottentomatoes
Posted by

Mr.Black
at 4:21 PM
No comments: